7 Most Stylish Couches
Well, we are finally done moving. Thank you Jesus! I really felt like it would never end. We are still in the process of purging and downsizing. We have moved a 4 bedroom house, with a 2 car garage into a 3 bedroom apartment with a single garage. The garage is busting at the seams to say the least, so the battle continues. I have sold several pieces of furniture, as well as this and that. We sold our living room furniture and kept the family room sectional for now, until I find a replacement. We are not only downsizing, but I really only want to surround myself with things I love. If I love something, but can't afford it, then I should wait or live without it, not compromise and buy something I can afford for now. I want things that have value, not because they were purchased at a high end store, but because they were made by someone who was doing something they loved, who cared about the details, who made it with passion, which means more often than not, not store bought. I live on a very tight budget, so this should be interesting, but maybe that is where more of the minimalist part comes in. Having one thing you absolutely love, versus having ten things you like. In the instances of the past when I was able to buy the exact thing that I loved, I can say, I still love it today. Of the things that I bought because of need, or affordability, I am only so happy to let them go. It is a process, and a matter of changing your thinking, as my husband has already had to remind me not to compromise.
So one of the purchases I want to make is a new couch. It will be the only couch we have, so I want it to be something I really like, as well as comfortable for the guys in my life. This should be interesting. Where I live, the furniture stores SUCK! This means I will not be purchasing locally, and can not try out how comfortable they are which worries me a bit. I once found a couch at Ikea online that I thought would be great. We traveled to purchase couch and other items, only to find that the couch was very stiff and uncomfortable. Oh snap. Anyways this couch will be lounged on, read on, knitted on, and napped on. I am really loving the vintage look, but several of the couches I have really liked, don't exactly look like they would be comfortable for anything other than upright sitting. Below are seven couches that I do really love, but all may not be as practical as I would like. I guess I will have to rely heavily on reviews. The other decision I have to make is the color. I would love a turquoise couch, but then I thought maybe I should go with grey and accent with my favorite color. Thoughts?
These couches that I choose are not necessarily ones I can afford, but you have to start somewhere. Once I narrow it down to a specific style, then I can figure out the affordable option. So without further ado, here are my choices.
West Elm
I really like this one because it is handmade in the USA, and stuffed with down. The designer said she set out to create the most comfortable sofa she could, one that everyone would want to sit on. I do wish you could choose the stain for the feet, but you can't. The description sounds wonderful, the only things is it lacks some of the vintage detail I am loving in the other couches. This is the grey color in linen, or I would one of these colors both in velvet.
Dot & Bo
I really love this one, the color is perfect, the style is perfect, though it does lack the built in chaise (for the guys), and I am not sure how great it would be for lounging. There are no reviews to read.
Dot & Bo
This one only comes in this color, which is still a perfect compliment to my home. Again another great style, but would it work for a family room setting? I can hear those men in my life complaining about its lack of functionality.
Joybird
This one seems like a great compromise, with great style, color, and a built in chaise. I think it marries my style, with the lounge factor, but is it really comfortable?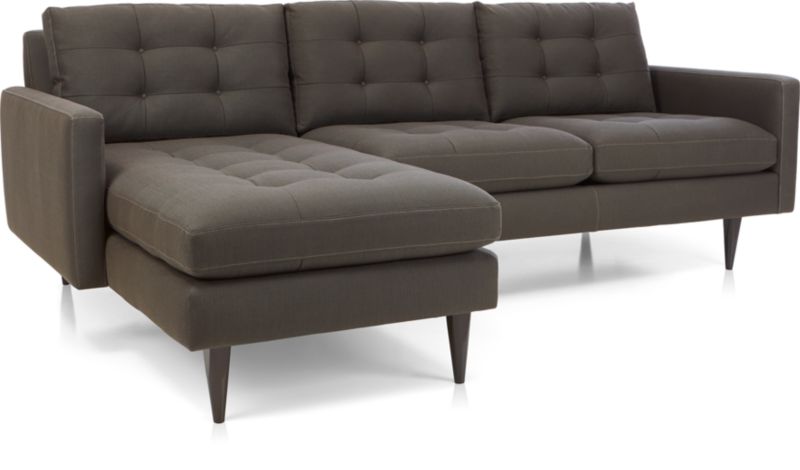 Crate and Barrel
This one is ok. It does have a vintage feel to it, and the built in chaise, however this is the only color option for me, and the fabric is a nubby one. It is among the most expensive.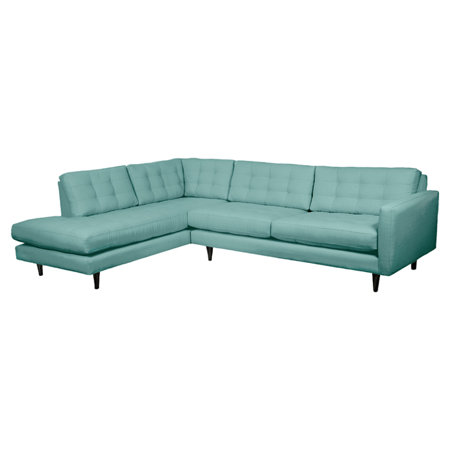 Joss and Main
This one only comes in this color, which I do like, but it might be a little too light for something that would get a lot of use. The style is there as well as the possible lounge factor.
West Elm
This is another one from West Elm, which has the style I like, and it looks really comfy. Also handcrafted, and assembled in the USA. The same colors are available as with the first couch from West Elm.